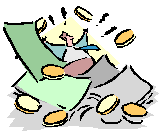 All groups are in desperate need of money. Whether it's the band, sports teams, individual classes or church groups. We can help. Here is a way your group can literally make THOUSANDS OF DOLLARS.
HAVE A BOWL-A-THON
A bowl-a-thon is a fundraiser in which your group gets people to pledge or sponsor them pennies for every pin they knock down. On a prearranged date the group comes in and bowls three games. Each bowlers pledges are added up and they are told approximately how much money they will bring in. It's that easy. Not only is this a great fundraiser it's also a great social event. With minimal cost your group could reach their financial goals with just one event. Please remember the more effort your group puts in the more DOLLARS you'll get out.
Ask about GLOW BOWLING.
We are smoke free.
King Bowling Lanes
751 Mast Road
Manchester, NH 03102
(603) 623-9215



Our Favorite Links